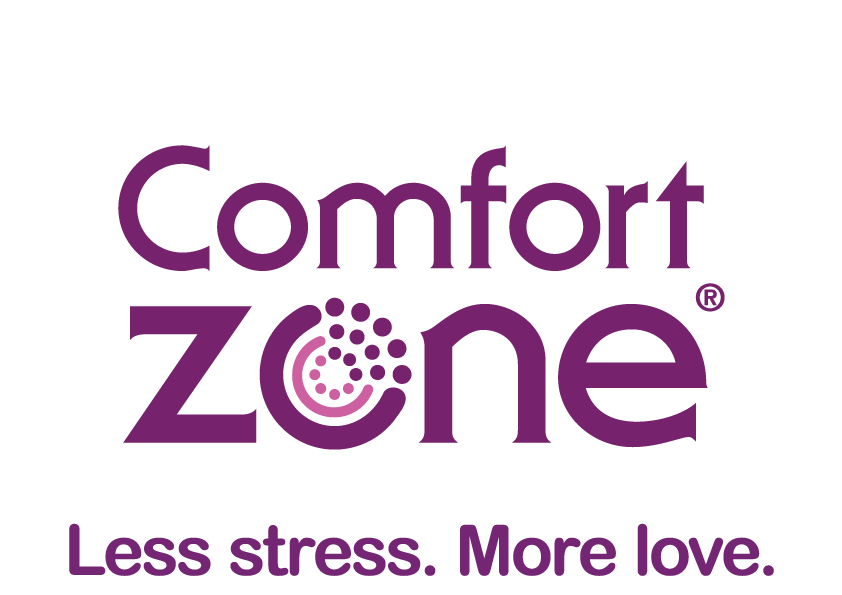 PROVEN CALMING SOLUTIONS FOR CATS
Pets make life better. We want to celebrate and maintain the benefits of having pets, but as pet owners, we know that it's not always easy. Cats and dogs are sensitive creatures and can be easily stressed. When pets experience stress, they often act out in ways that are concerning and sometimes disruptive.

Comfort Zone is here to help you manage problematic behaviours in cats and dogs. We want to create a calming environment for everyone in your home so that harmony and love can be restored.

We work hard at developing and manufacturing products that perform to high standards of efficacy, making sure our products are proven to reduce stress behaviours in cats and dogs.
As the makers of Comfort Zone products, we take pride in offering solutions that provide you and your pets less stress and more love.


For TRADE support or more information, visit the Support page or send a message via our Contact form, or…
Visit our brand website for further product information and general support: www.comfortzone-europe.com
Follow our socials
Some of the links below will take you to the Comfortzone consumer website.
Comfort Zone® Calming Collar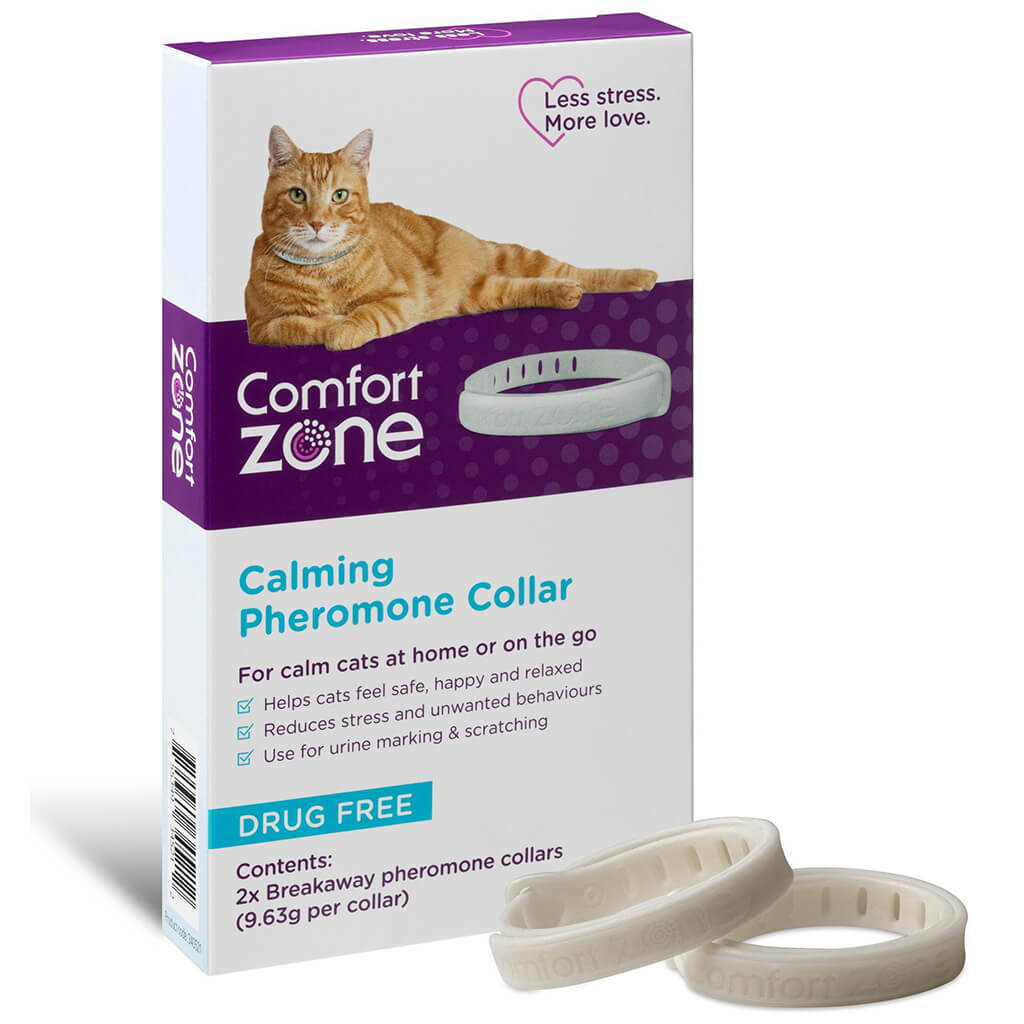 The Comfort Zone® Calming Pheromone Collar for Cats provides continuous comfort for on-the-go cats, whether they're indoors or outdoors. This collar can help your cat's "e-meow-tional" health by using our trusted pheromone formula.
The Comfort Zone® Calming Pheromone Collar for Cats is veterinarian recommended and mimics your cat's natural pheromones, helping keep your kitty more comfortable during stressful situations, like moving, redecorating, traveling or visiting the vet. The collar promotes a sense of relaxation, which is "purrfect" for on-the-go cats. By relaxing your kitty, this collar will help curb stress behaviours like spraying and destructive scratching.
Comfort Zone® Single & Multi-Cat Calming Diffuser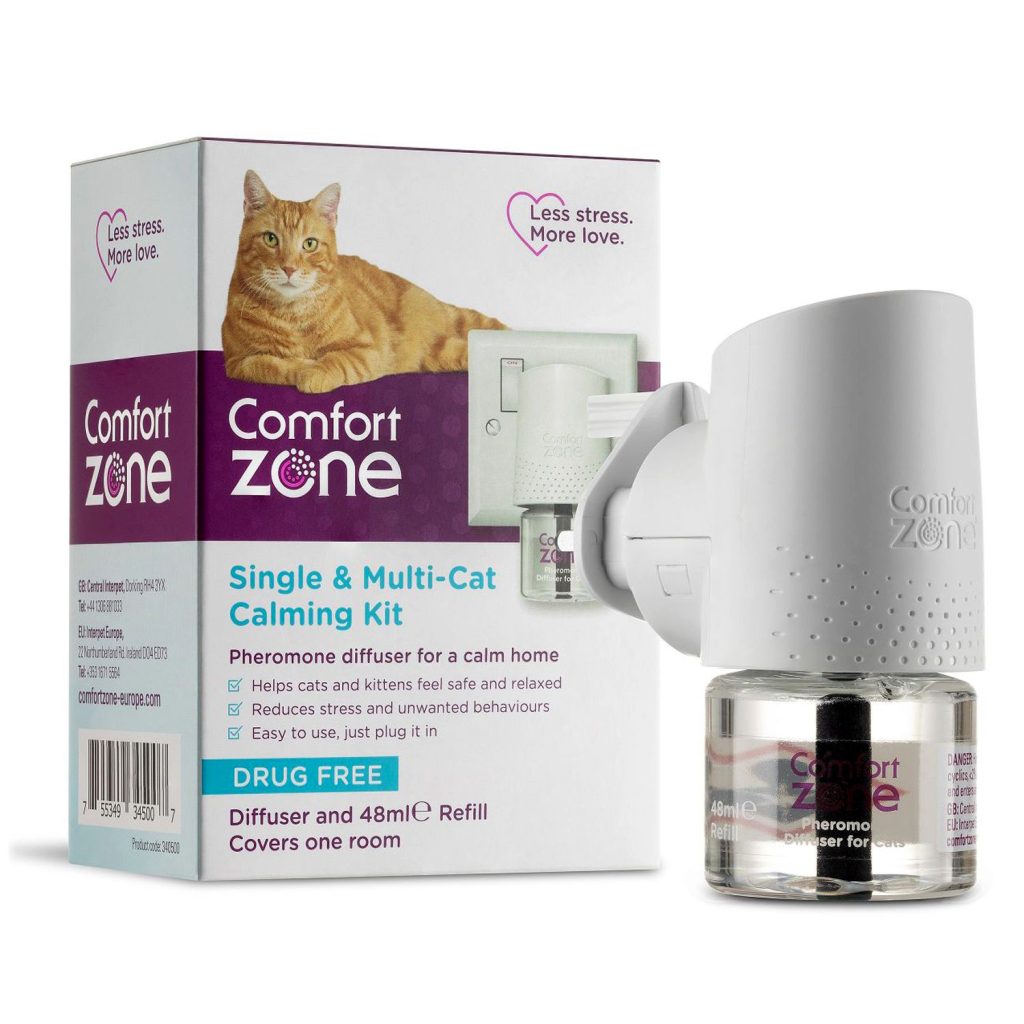 The Comfort Zone® Cat Calming Diffuser releases an odourless, drug-free vapour that mimics cat pheromones, naturally occurring chemicals that signal safety and familiarity. A calm cat is a happy cat and when you put cats at ease they're less likely to exhibit destructive behaviours. Most cats showed improved behaviour after 2 weeks.
Plug the pheromone diffuser upright into an unobstructed electrical socket, away from drafts or windows. Each plug in diffuser covers approximately 650 sq. feet / 60 m2 and lasts up to 30 days. The automatic safety shut-off feature prevents the diffuser from overheating. Diffuser refills are available in 1 and 4 packs.