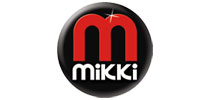 Products and advice for Grooming, Training and Caring for your pet at all stages of life
Back in 1980, the first Mikki product to hit the market was the infamous Mikki Muzzle, this contemporary update on the traditional basket muzzle was loved by dog trainers as it allowed the feeding of treats whilst training – the first muzzle available on the market to do this.
Four years later, Mikki launched its first ever range of grooming products – made by groomers, for groomers and since then, Mikki has led the way in developing quality products that really work.

Professional grooming quality
From the very beginning, Mikki has been a firm favourite among professionals and we strive to make professional quality available for everyone. If you've got a pet, we've got a grooming tool for you!
As we've grown and listened to our customers and consumers, we've expanded our ranges to include everyday training and care solutions. Mikki knows that one size does not fit all and has tailored its ranges to meet the demands of a wide variety of breed shapes and sizes. Be it your dog pulling on his lead or your cat not taking her pills, we've got the solution for you.

The links below will take you to the Mikki consumer website.
For TRADE support or more information, visit the Support page or send a message via our Contact form, or…
Visit our brand website for further product information and general support: www.mikkipet.com
Follow our socials