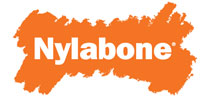 For every reason to chew… there's a Nylabone
Since 1955, Nylabone has been making the world's best chew toys, long-lasting edible chews, and dental solutions for dogs of every age, breed, shape, and size.

Our veterinarian-recommended chew toys and edible chew treats promote good canine dental hygiene, occupy and entertain, discourage destructive chewing, reduce stress, and strengthen the bond between pets and their people.

We know that every dog is different, and so are their needs. That is why we make a wide variety of chewing solutions in flavours, shapes, sizes, and textures for every kind of dog and chewing strength.
To put it simply… Nylabone Chews Best!


For TRADE support or more information, visit the Support page or send a message via our Contact form, or…
Visit our brand website for further product information and general support: www.nylabone.co.uk
Follow our socials
Some of the links below will take you to the Nylabone consumer website.
Nylabone Chews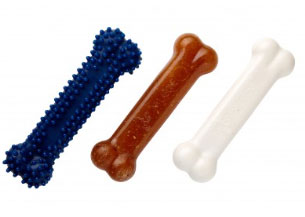 Nylabone have the biggest variety of non-edible flavoured chew toys in the world, from vanilla ice cream to pork chop, along with more traditional flabours like chicken, beef and bacon – we have a flavour that your dog will love!
Our chew toys are flavoured throughout, meaning the flavour goes on for as long as the chew does, they are not sprayed, dipped or coated in any way so there is no chance of that tasty flavour being licked off!
Nylabone like to keep your dog interested in chewing, that's why we have created 100's of different chew toys for you to choose from. Whether it be a traditional bone or a dinosaur shaped chew.
Nylabone Edibles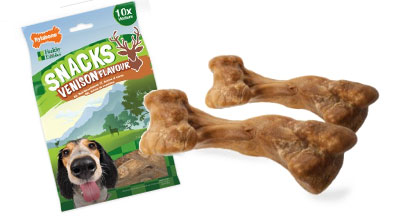 All dogs love a treat! While feeding your dog a treat maybe more casual than his regular meals, you should still pay careful attention to the types you buy.
Feeding treats that are unhealthy can cancel out any good ingredients he gets from his regular meals.
Looking at the ingredients list is a good start point. Try to choose treats that are natural and have nutritional ingredients.
Nylabone natural treats are usually slightly longer lasting than some others, but they're designed to be consumed, so they won't last as long as a Nylabone chew does.