Ever mindful of the varying chewing strengths of puppies, Nylabone has added to its extensive offering of teething & chewing solutions with the launch of an 'extreme' Puppy Power range.
Designed to withstand even the most powerful of puppy chewers the new range is made from durable nylon and has flavours that run throughout ensuring that they remain for as long as the chew does. They are not sprayed, dipped or coated so there is no chance of their tasty flavours being licked off!
The range comprises; a twin pack of beef stew & vegetable and bacon flavour chew bones suitable for puppies up to 11 kg in weight, a single beef stew and vegetable chew suitable for puppies up to 23kg, and a bacon flavoured Puppy Rings chew toy for puppies up to 11kg in weight.
In addition to aiding teething and promoting good chewing habits, the Puppy Power Chew range is perfect for aiding dental hygiene. The tiny bristles that raise on the bone during the chewing process act like a mini toothbrush to help keep teeth clean and prevent the build-up of tartar.
The Puppy Power Chew range is available to order now from Interpet's trade website https://trade.interpet.co.uk/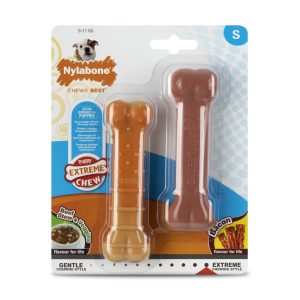 For further press information, samples, or expert comment please contact Alex Randell at Big Bark PR E: alex@bigbarkpr.co.uk Tel: 01306 731331