Nylabone has launched Gourmet Style, an exciting new range of chew toys that features visibly tasty morsels of flavour for a distinct chewing experience. Created using Nylabone's iconic strong nylon material the new range combines delicious flavours which are roasted throughout for long-lasting chewing satisfaction.
Gourmet Style is available in both adult and puppy chewing categories and features three of Nylabone's most popular distinctive flavours; chicken, bacon, and peanut butter. The adult chew toys have been created in the brand's classic ergonomically designed wishbone shape that offers three different chewing ends, and their universally loved stick shape that realistically mimics the real thing but is both safer and cleaner. These are available in small and large sizes.
The puppy Gourmet Style chew toys come in three shapes; wishbone, stick and femur, each of which is infused with delicious flavour throughout. As with other Nylabone puppy chew toys these new additions are a great way to help develop positive chewing habits whilst aiding with teething and canine enrichment. They are available in small and medium sizes.
Nylabone Gourmet Style chew toys are manufactured in the United States where they were recently awarded the accolade of 'Chew Toy Product Of The Year' in the 2022 Pet Independent Innovation Awards.
The Gourmet Style range is available to order now from Interpet's trade website https://trade.interpet.co.uk/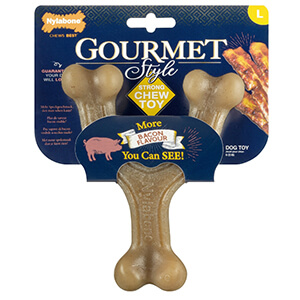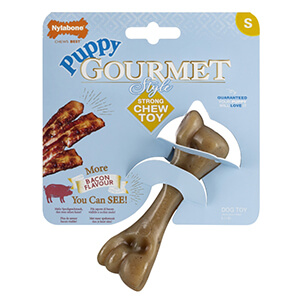 For further press information, samples, or expert comment please contact Alex Randell at Big Bark
PR E: alex@bigbarkpr.co.uk Tel: 01306 731331